Welcome to AirServ Mechanical Group, your local HVAC specialists in New Jersey If your heater, air conditioner, boiler, furnace, HVAC system or plumbing has a problem, or if you are looking for a new system entirely, you need a professional service that you can rely on. AirServ Mechanical Group are your local experts who deliver 24/7 affordable HVAC services in New Jersey that you can rely on. Backed up with years of experience, our team of professionals offer a range of HVAC services in NJ.
Highlights, Specialties & Features
24 Hour Emergency Services
Satisfaction Guarantee
Same Day Service
Same Day Installation
Financing
Professional Associations & Certifications
Serviced Areas
Bergen County, Passaic County, Essex County, Morris County, Sussex County, Hudson County, Union County, Middlesex County,
Payment Options
American Express, Credit Terms Available, Debit Cards, Discover, Financing Available, Google Checkout, MasterCard, PayPal, Personal Checks, VISA
Contact Details
Business Representative
Products & Services
Air Conditioner Sales / Repairs
We're not just pros in the heating game — we can keep your home cool in the warmer weather, too! Trust AirServ Mechanical Group's highly trained technicians when you need help fixing an air conditioner unit that refuses to blow cold air or a cooling system that simply won't turn on. Perhaps you need a new central air installation to make your cooling system more efficient and maintain your home's ideal temperature all year long.

Air Conditioning services we provide:
Air Conditioner Repair
A/C System Check
Central Air Installations
Indoor Air Quality
Ductless split systems
A/C Troubleshooting
Central A/C Systems Repairs and Service
---
Furnace Sales / Repairs
No matter the problem, your 5-Star Technician from AirServ Mechanical Group can come and have a look at your furnace. If it turns out that you simply need your furnace serviced and it'll be working more efficiently as a result, you'll be glad you gave us a call. If there is a problem that requires repair, we can handle that for you and make sure that your furnace is in the best shape possible in preparation for winter. And it if turns out that it's time to replace your furnace, you can count on the AirServ Mechanical Group team to work with you to find the perfect new furnace for your home, your budget, and your peace of mind.
Promotions & Discounts
A spring tune-up is a sensible and smart thing to do. AC tune-ups help you keep your home comfortable, allowing your AC to cool your home with efficiency. They can help reduce your utility bill and help provide more control over the temperature inside your home.
---
All new customers receive 15% off on all service repairs on all HVAC repairs.
Customer Testimonials
AirServ Tech, Sam, did an excellent job in replacing my sub-pump in my basement today. Mike is professional and thorough in doing his job and everything was done in a caring and neat way. He also cared details and carried out his job towards perfection. For example, he used a marker labeling neatly in capital letters on the two pump-lines as "EMERGENCY PUMP", and MAIN PUMP" which were not labeled before; he also mount my pump alarm box on the wall which was awkwardly tapped under the pipe by a previous installer. Although these are insignificant and not required him to do, he did take effort to do them without being asked, indicating his good attitude towards his job and trying to make his customer satisfied. He also patiently explained to me how the pump system work. I am glad AirServ sent Sam over to fix my sub-pump and will recommend him to my friends. This is the second time I use AirServ and both services are fully satisfied.
---
Highly recommend. I would definitely use them again. Techs were very professional & knew what they were doing. Prices are reasonable & very pleased with their services. Thank you!
---
Very professional, worked in a timely manner and very neat did not leave a mess. Knew what they were talking about and were very polite, definitely would recommend !!!
Social Activity
Understanding PEX Piping Designation Codes https://t.co/wMWNexqNIc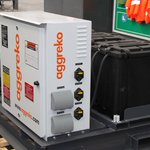 Aggreko: Hybrid Power System, shared from ACHR NEWS app. Check out more from ACHR NEWS by downloading the iPad app. https://t.co/eJRXVbfgvA